Hydraulic Vertical Storing Leveler
HVS Series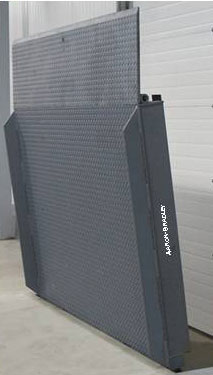 Hydraulic Vertical Lift Description
The 'HVS' Series Hydraulic Vertical Lift provides entry to and from the truck/trailer, yet stores inside the building. This unique product is designed for freezer or cooler applications where energy savings, rodent control and reduced product damage are serious issues.

Get a Quote
Product Features
Fully hydraulic operation eliminated ergonomic problems
Push-button activation for efficient and simple control
Ramp and Lip independently operated to accommodate all loading requirements
No maintenance schedule required. No downtime and service cost for regular maintenance requirements
No manual handling – Protects against accident / personal injury
Structural Steel beam support provides superior structural integrity
Automatic Ramp Lock – Hydraulically locks the ramp in the stored position
Full-width hinges provide extra support where leveler abuse in experienced
Models and Dimensions
| Model | Width | Length |
| --- | --- | --- |
| HVS65 | 6′ | 5′ |
| HVS66 | 6′ | 6′ |
| HVS75 | 7′ | 5′ |
| HVS65 | 7′ | 6′ |
General Specifications
Fully automatic, Power Up / Power Down – Hydraulic operation / 115v/1ph/1hp/60Hz

Optional Gravity Down operation available
Optional 208-460v/3ph/1hp/60Hz

Regenerative hydraulic system w/ Self-contained Power-pack

Optional remote Power-pack available

Ramp can be lowered with lip extended for normal loading operations or with lip retracted for end load op- erations
Ramp is stored and locked in vertical position and can be stopped in any position from the Push-button control station
Capacities: 25,000 lbs – 100,000 lbs.
Custom design and applications available – Call for details
Product Construction
The ramp and lip are constructed of high yield 55,000 PSI type safety tread steel plate. The ramp is a welded, bridge-type structure with structural steel beam deck support, providing a minimum 18″ face contact with the deck plate. Deck supports are secured between full width header plates, front and rear. Continuous spool-type hinges are constructed of seamless tubing. Standard lip is 16″. Hinge shafts are one-piece cold drawn steel, full width. The ramp mounting plate is designed to weld to imbedded channels in the dock face for fixed position operation or to mount on slide rails, which allow lateral positioning of the ramp.
Hydraulics
The self-contained hydraulic pump unit with 1hp totally enclosed motor will provide hydraulic power for all operations. Separate hydraulic cylinders operate the ramp and lip individually. During operation, automatic valving controls functions of the leveler through a regenerative hydraulic circuit. Automatic hydraulics provide power ramp down, power ramp up, power extended and power retraced lip.
Literature
The Pre-wired, Push-button Control Station controls all functions of the leveler. The control station is housed in a gasketed enclosure, which meets NEMA requirements for indoor or outdoor use. The totally enclosed motor is rated at 115v-230v single phase or 208/230v-460v three phase. (Note: Wiring from the Push-button control station to the motor junction box and power source is by others.)
Accessories
Electric Truck Restraint
Pit Curb Angle Kit
Free Standing Frame
Warranty
Starts from date of installation – Two (2) years standard on all units. Covers exchange or repair of any hydraulic or structural component if found to be defective in manufacture.
Operation
Fully-automatic hydraulic system provides all movement of ramp and lip. Activated via remote push-button control, ramp can be lowered with the lip extended for normal loading operations or lowered with the lip retracted for end load operations. The ramp is stored and locked in the vertical position by push-button command. Ramp movement is stopped an any position from the push-button station. All functions are automated.
Safety Considerations
Fully-automatic Hydraulic Operation – Push-button Safety Stop – Automatic Storage Lock Run-off Safety Curbs – Pre-tested – Factory Adjusted