LoadMaster Hydraulic Dock Leveler
9' extra wide dock leveler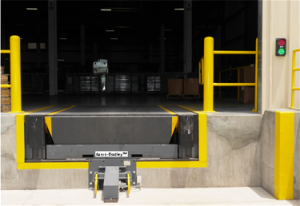 Description
The hydraulic dock leveler that is a full 9′ wide, will lower 12" below dock to provide fast, efficient access to low trailers. In addition, the 7' wide main deck will service trailers 12" above dock. The LoadMaster™ will also function as a standard dock leveler, but is especially designed to service the loading and unloading of trailers below dock height.
Get a Quote
Product Features
Expands the width of traffic aisle at the loading zone to 9' wide
On-board, steel-faced bumpers, raise or lower in tandem, with the leveler, to provide an adjustable height contact target for the docking trailer
Bumpers can be lowered after the trailer docks, eliminating the common floor level bumpers associated with the typical dock leveler installation. Movement can stop at any point within the operating range to better serve the full width of the trailer
Safe and expedited handling of palletized loads with full width pallets, side by side pallets or double stacked pallets
Side extensions (wings) of leveler platform are synchronized with a single push-button control, which allows positioning of bumpers at the 'optimum' height for load handling. Both (wings) are operated with one cylinder and one control button
Heavy-duty construction accommodates high-capacity/high-traffic load requirements
Life of the LoadMaster™ is maximized by using a double-acting, regenerative hydraulic system equipped with a single hydraulic motor/pump providing power to all components
Direct push-button control with no selector switches allows precise positioning in less time than conventional dock levelers.
Product Options
Custom designed sizes and capacities: Call for details
Application Engineering assistance and Consultation
Combination Control Panel: Provides operation of LoadMaster™ with an ATR-700 automatic trailer restraint, overhead door, dock light or fan/heater. Can also be equipped with an auxiliary power outlet
Finish: Custom Paint (requires mfg and paint number); Spray Metalized (Cold-spray Galvanizing)
Lip Length Up to 24" provides 18" reach (lip purchase) past 6" Bumpers
Vertical Laminated, Steel Face Dock Bumpers: 24" or 36" Long
Literature