PowerForce Industrial Rubber Doors
High speed roll up doors for large vehicles and entryways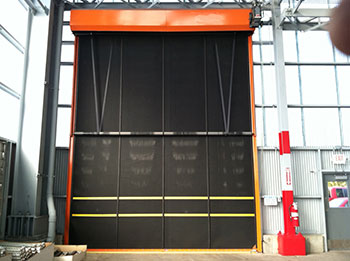 PowerForce Industrial Rubber Door Description
Aaron-Bradley's™ PowerForce™ industrial rubber doors are designed for repetitive opening and closing for large equipment needing quick access in and out of facilities. Typical applications include state and municipality maintenance facilities, salt storage enclosures, mining operations and food production plants. Replacing your current slow metal doors can improve efficiency by preventing large vehicle operators from having to wait for the doors to open. Check out the options below and request a quote today.
Get a Quote
Primary Features
High speed
High quality rubber material
Rolls up
Break-away
Wind Resistant
Primary Industries Served
Mining
Manufacturing
Transportation
Military
Agriculture
Parking Garages
Maintenance Facilities
Standard Features
24 ga. metal hood enclosure
Springs: 50,000 or 100,000 cycle rate (varies with model)
Continuous molded windlock edge (no tabs to break off)
Heavy duty gear head operator or direct-drive operator (for high-cycle, springless applications)
Low profile steel guides (4″ projection from wall, standard up to 24′ x 24′ door)
Curtain: 1/4″ black SBR rubber w/ polyester cord curtain (optional EPDM rubber, color-fast blue or gray)
Through beam photo eye sensor (mounted per application requirements)
Wireless safety edge w/ break away steel bottom bar (reverses door on contact)
Auxiliary chain operation (chain stores in keeper supplied with operator when not in use)
Options
Vision Panels – Standard: 10″ W x 18″ H
Photo Light Bar
Stainless Steel Bottom Bar
Stainless Steel Guides
Outboard Spring
Method of Activation:

Pull Cord
Motion Detectors
Floor Loop

Remote Transmitters
Application Examples
Mining: The PowerForce™ model PF230 Mining Doors are best suited for the harsh environment and high traffic areas both above and below ground. The standard SBR rubber is puncture and corrosion resistant. Optional flame retardant MSHA approved material is available where required.
Manufacturing: The PowerForce™ Model PF210 is well suited for factory door openings. The breakaway bottom bar and wireless safety edge are ideal for industrial equipment or forklift traffic where rolling steel doors or fabric doors are not adequate.
Literature