DockMaster Hydraulic Scissor Lift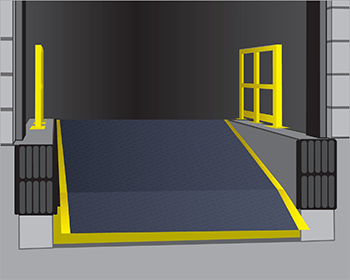 Description
The DockMaster™ combines a dock leveler and scissor lift into one unit. This specialized product from Aaron-Bradley™ allows for both functions in one dock position. This eliminates the cost and space requirements of a dedicated dock position for a ramp, when dock to ground forklift access is required.
Get a Quote
Product Features
Hydraulic Dock Leveler: Designed for shipping and receiving, the DockMaster™ provides a service range of up to +/- 20" from dock height.
Hydraulic Scissor Lift: Allows the servicing of special truck heights above & below dock, and dock to ground access for forklift or materials. Service range of 0" (flush with grade) to a maximum of 72" above grade.
Includes solid state controls with PLC management and LED message indicators for all modes and functions.
Communication Light Package with Red/Green LED Lights & Driver Warning Signs.
The most versatile unit at any single dock opening.
Fully Hydraulic and ergonomic design does not require manual lifting or bending.
Designed for the most demanding applications requiring superior structural integrity, lasting dependability and operational functionality.
Standard Specifications
Sizes From: 6′ 6" W (minimum) x 8′ 0" L to 8′ 0" W x 12′ 0" L
Full Deck Surface Length: 8' = 96"; 10' = 120"; 12' = 144"
Capacity, Scissor Lift (lbs.): 16,000 to 40,000
Capacity, Dock Leveler (lbs.): 35,000 to 60,000
Full Hydraulic Operation
Main Power-pack: Fully enclosed, regenerative system, 208v-480v/3ph/5hp/60Hz
Lip & Rear Hinge Hydraulics: 230-460v/3ph/1hp/60Hz
Control: Standard Push-button with NEMA 12 enclosure. Includes controls for Scissor Lift, Dock Leveler operations and Communication Lights
Communication Light Package: Includes inside/outside LED Red/Green Lights and Mirrored Driver Warning Signs
Service Range, 8' L Unit: Lift up to 58" above grade; Leveler 12" above / 20" below dock
Service Range, 10' L Unit: Lift up to 60" above grade; Leveler 12" above / 20" below dock
Service Range, 12' L Unit: Lift up to 72" above grade; Leveler 20" above / 20" below dock
Lip: Standard 20" L, provides 11" reach (lip purchase) past 4.5" bumpers
Front Roller Curtain: Encloses front of pit during all operations
Laminated, Vertical Dock Bumpers, 4.5" Deep x 20" Long x 11" Wide
Easy maintenance access without auxiliary equipment
Finish: Industrial Gray Enamel w/ Safety Yellow Side Striping
Visual Flashing Beacon: Activates during scissor lift function only, in below dock mode
Product Options
Custom designed sizes and capacities: Call for details
Application Engineering assistance and Consultation
Combination Control Panel: Provides operation of DockMaster™ with an overhead door, dock light or fan/heater. Can also be equipped with an auxiliary power outlet
Finish: Custom Paint (requires mfg and paint number); Spray Metalized (Cold-spray Galvanizing)
Hand-rails, OSHA requirement (Optional purchase from ABC Docks or by others)
Lip Length Up to 32" reach (lip purchase)
Audible Alarm w/ Key Override: Provides alarm for up/down travel for Scissor Lift function only
Vertical Laminated Bumpers: 24" or 36" Long, with or without Steel Face Plates