Ground Level Dock Lift
GLDL Series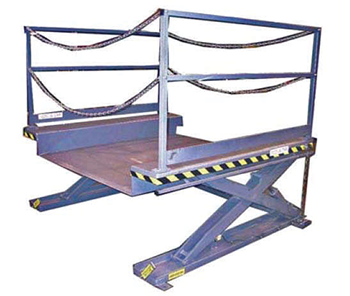 Description
Aaron-Bradley™ 'GLDL' Ground Level Dock Lift Series is a uniquely designed dock lift, which offers ground level access for pallet trucks for loading & unloading operations. Ergonomically engineered, rugged and compact, the 'GLDL' provides consistent lifting power and it's remote power pack can be mounted inside the building or outside with a cover.
Get a Quote
Product Features
Ground level drive on / off provides access for pallet jacks, dollies and specialty carts
No pit required
UL/CSA Hydro approved power-packs & controls
'ITS' certification of electrical components
Intertek Testing Services website: http://www.intertek.com/
115v / 1ph / 1hp / 60Hz remote power-pack (optional 3ph motor available)
TENV motor
NEMA 4 Motor-rated, Hand-held, Push-button control
Power-pack includes Pressure Relief Valve, Check Valve & Control Valve
Ground polished, hard chrome, solid rod hydraulic cylinders (rated at 3,000 P.S.I. working pressure)
Velocity fuse fall safe protection
Oil, weather and abrasion resistant hydraulic hoses w/ 4 to 1 safety factor at 3,000 P.S.I.
Profile cut, solid steel scissor legs – 44,000 P.S.I. (tensile strength)
Smooth steel platform
Structural steel base frame
All Pivot Pins w/ ground Superior shafting
Lifetime lubricated Teflon® coated bushings
Sealed Cam-follower rollers
Black/Yellow Safety-warning stripes on platform sides
Product Options
Higher capacities
Oversized platforms & base frames
Higher lift heights
Safety Roll-off stops
Guard-rails
Bridge & Lip plates (split or solid w/ lifting chains)
Electric Peripheral Toe Guards
Conveyor platforms
Tilt Platforms
Portability (semi-portable)
Power-packs:

220-575vAC/3ph/1to3hp/60Hz
12-24v DC
1-4 hp Air motor

Wash down
Explosion-proof
Foot-pedal control
Automated operation
Accordion Bellows Curtains
Custom finishes (paint or galvanized)
Custom designs
Build to customer specifications
Standard Sizes, Models, Capacities
60" Wide x 84" Long; Lowered Height: 0"; Raised Height: 54" / GLDL1-2; GLDL1-4; GLDL1-6
60" Wide x 96" Long; Lowered Height: 0"; Raised Height: 59" / GLDL2-2; GLDL2-4; GLDL2-6
Capacity: 5,000 lbs.
Literature
Warranty
Starts from date of shipment – One (1) year standard on all units.
Option: ABC Docks, LLC will match any competitor's documented warranty for comparable products.