Scissor Lift Curtains, Skirts & Aprons
Improve the safety of your scissor lifts.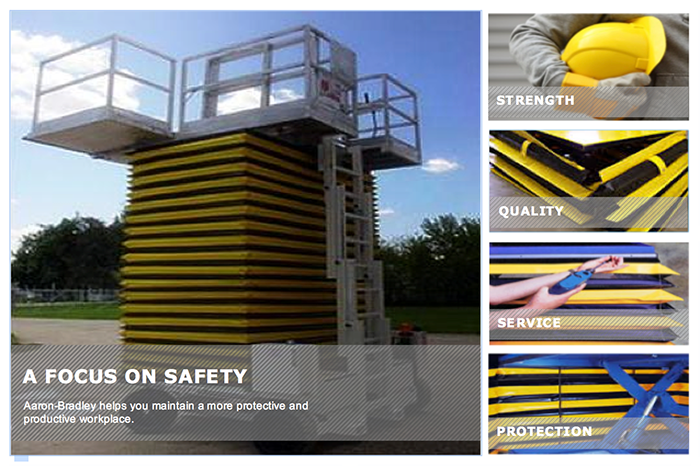 Bellows Curtains Description
Aka: Lift Table Skirting, Scissor Lift Apron, Accordion Curtain
Aaron-Bradley™ provides safety solutions to help prevent serious injuries as well as control expensive downtime and liability costs. A recordable incident may cost up to $80,000, but more importantly an injury often changes a worker's life forever. Accidents are preventable.
Our bellows curtains completely guard the moving parts of any scissor lift, safely shielding personnel from dangerous pinch points. Not only do bellows curtains from Aaron-Bradley protect you and your staff, but also the lift mechanism itself by preventing dirt and debris from collecting in the scissor areas. This reduces maintenance and down time.
With the standard black and yellow fabric colors, Aaron-Bradley™ bellows curtains maintain a highly visible profile while shielding valuable equipment.
Reduce accidents, costly downtime and mechanical repairs simply by calling Aaron-Bradley today or use the form for your bellows curtains quote.
Get a Quote
FAQ
Curtains vs. Skirts vs. Aprons
Whatever you call them, curtains, skirts and aprons that cover the outside of your scissor lift are used to prevent debris from gathering underneath the lift table and limit exposure to potentially dangerous objects. Because safety is our #1 priority, Aaron-Bradley™ uses only the best materials with quality stitching and construction.

Can I order replacement curtains for existing lift tables?
Our Bellows Curtains can be produced for new lift table OR can be retrofit on existing tables. Whether it is a blanket order or a one of kind lift, we can tailor the bellows to fit your unique table design. (See request a quote)
How strong is the material?
All of our bellows are made from 23oz coated vinyl – the strongest in the industry, outperforming all others.
Do the bellows wear out quickly?
Our extension straps give added protection from over stretching while in use – essential for facilitating uniform expansion of the folds and to protect the bellows fro over extending.
Should I choose internal (under deck) mount or external mount bellows?
The default choice is internal bellows since they fit within the footprint of the deck surface and allow workers to stand closer to the lift (table) itself. The deck surface must be at least three (3") inches larger than the base frame on all four sides to allow room for the internal bellows.